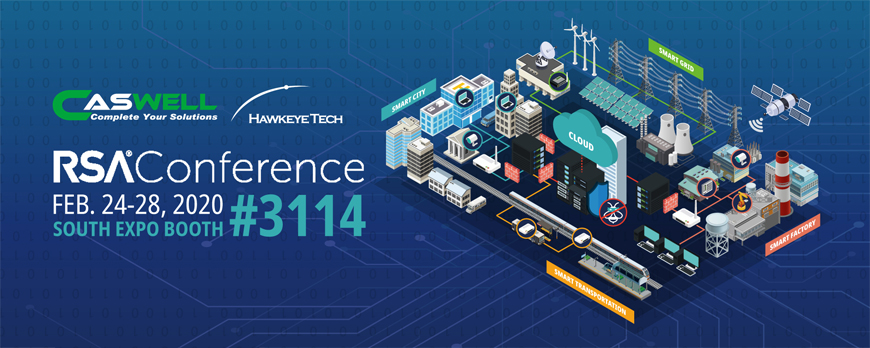 02/11/2020- HawkeyeTech. as a solution provider that supports a Secure Software-Defined Wide Area Network (SD-WAN), with CASwell Inc., a leading manufacturer of innovative and high-performance uCPE/vCPU and Cloud/NFV systems, are proud to announce their participation in the RSA Conference 2020, the world's leading information security conference and exposition from February 24th to 28th in San Francisco, California. This release is expected to reveal a new page for the open-source architecture solution in SD-WAN and future development in the edge computing.
For the RSA Conference, HawkeyeTech and CASwell are preparing to showcase some of their market-leading networking products for secure and connected edge computing as well as IoT solutions for almost every use case. These systems are either based on high-end x86 architecture or energy-efficient ARM SoC to be essential and safe parts of future ecosystems
This showcase applied with the Spine-Leaf topologies which is developed by BISDN GmbH now could provide for numerous paths between two points, allow traffic flows across all available routes, to further improve the redundancy and the ability to use multiple network paths at the same time for a better networking transportation performance, both availability and scalability.
"We enable this integration to be faster and easier, even in the ARM-based platform." as HawkeyeTech's specialty is to construct a highly integrated software environment to implement 3rd party's' applications, deployed this Spine-Leaf architecture in their own model HK-5120 and HK-6010 series, hope to provide a high-availability product solution to the market.
HawkeyeTech. urged to develop a fast and highly integrated environment to fulfill the low-cost, open white box to further support customer's future development of the edge computing, and solve the heavy traffic from IoT, cloud and other traffic requirements.
Find out what's new and stay informed about HawkeyeTech and CASwell solutions at the RSA Conference 2020 February 24th to 28th at the Moscone Center South Expo booth #3114.
Find out more about the RSA Conference 2020 in San Francisco here: rsaconference.com/usa
For Hawkeye Tech's exhibiting product spec and demo video please click HERE
About CASwell
CASwell, Inc. was founded in 2007 by a group of engineers with a desire to create dynamic system solutions for embedded applications. While CASwell is a young company, it has proved itself to its customers with advanced technology, professional service, and superior design and manufacturing capability by delivering a great portfolio of solutions based on Linux®. In 2014, the well-known IPC manufacturer Ennoconn Corporation (subsidiary of Foxconn Technology Group) decided to invest in CASwell, becoming the largest shareholder. CASwell has since become the subsidiary of Ennoconn, a member of Foxconn Technology Group. CASwell is dedicated to providing its customers with an unparalleled one-stop shopping experience for their network security and management needs.
Find out more on the official website: https://www.cas-well.com/
About BISDN GmbH
BISDN was founded in 2012 to commercialize the most sweeping innovation the network world has seen over the last decades. Their multi-disciplinary team of experienced engineers, network visionaries and young talents have a combined 70 years of experience in telecommunication networks. As a result, BIDSN GmbH develops high-performance solutions for network virtualization. For more information: https://www.bisdn.de/